Start a Blog using WordPress with Step-by-Step Guide
Welcome to SmartBlogProfits.com.  You probably landed here because you want to know how to start a blog with WordPress.  Well you have come to the right place. The information found in this blog post, is crucial advice for new bloggers.
Before you learn how to start a blog, you need to know what you are passionate about. Once you find your passion, search the Internet to find other blogs that share that same passion.  This will also give you an idea about the competition that is in your niche.
Let's say your niche is skin care. Search the web for skin care. Notice that there are over one hundred million sites listed. Now narrow your next search to eczema skin care. Did you see how drastically the number of sites listed decreased? I'm using this example because eczema runs in my family. So if anyone decides to blog about this topic, I have some valuable information from my dermatologist.
Now that you've chosen eczema skin care for your specific niche, think of as many short domains with eczema, like healmyeczema.com, or eczemacure.com.  Once you have written down a list of domains, you will need to check the availabilty for registration.
There are a number of web hosting companies to choose from.  The company that I HIGHLY RECOMMEND for new website owners is Bluehost. Bluehost has free one-click script installs, which makes it extremely easy for WordPress installation.
Disclaimer: I am an affiliate marketer for various vendors such as Bluehost, Clickbank, Plimus, Avangate, and others.  I recieve a commission on the products and services that are purchased on this blog. I make no guarantee of any financial results from any of these products or services.  Individual results will vary.  I promote these products and services based on either my personal experience, product reviews, or demand. If you decide to purchase anything on this site, please do so based on your own informed decision.  If you have previously made purchases here before, I appreciate your continued support.
There are other blogging platforms other than WordPress. However, WordPress is the number one platform if you want to start a blog. Installing WordPress with Bluehost is very simple, and only takes a few minutes. Check out this short video below.

Once you have registered your new domain name, browse and install a WordPress theme that fits your niche. Next, assign titles to your pages and posts. This will be your guide for staying focus on the topics that you will be blogging about.
Throughout the day, ideas will come to mind for your blog. This will make it easier when you start writing, because your titles will remind you of your ideas for your blog content.
There are a lot of great free WordPress themes to chose from to start a blog in your niche. However, if you decide to start with an inexpensive premium niche theme, then Click Here.
Let's Recap the Steps on How to Start a Blog
Find your passion.

Search the Internet for your niche market.

Write down the number of websites in the search results.

Narrow your search to a specific niche.

Write down some creative domain names for your niche.

Check the availability of the domains.

Register your new domain with Bluehost.

Install a WordPress theme that fits your niche.

Assign titles to your pages and posts to guide you with your content.

Start blogging!
Occasionally spy on your competition to see how their blog looks.  Do NOT duplicate their blog, rather make your blog different and unique.  Stay on topic and update your blog as often as possible. Remember that blogging is a journey and content is built over time. Do not expect to have everything you want in your blog in one day.
Still Confused about how to start a blog?
No problem. It took me years of studying with trial and error to figure out how to start a blog. If you need a more detailed explanation about creating an authority niche site, I highly recommend you download Niche Website Success.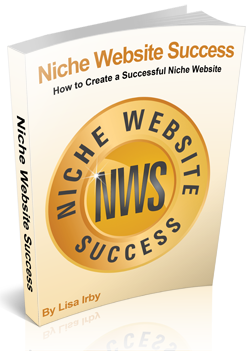 Niche Website Success will teach you how to build a powerful niche site, find problems and build solutions, beat your competitors, monetize your site, effectively market your site, and much more. Unlike other eBooks, Niche Website Success has over 150 pages packed with powerful and detailed strategies for new and seasoned bloggers. It also comes with a free workbook to track your progress. I've read a lot of junk eBooks throughout the years. However, Niche Website Success is the real deal. Click here to get your copy.
I'm excited that you have chosen to start a blog. The world has been waiting on solutions from such brilliant minds. You will be networking with people across the globe. Some will have more knowledge than you, and some will have less. There's a lot you can learn from others and there's a lot you can teach to others. Blogging is a life long learning experience. Stay focus and remain persistent. I wish you great success!
CLICK HERE TO SIGNUP FOR BLUEHOST.COM